Plant-based
Bak Kwa Fried Rice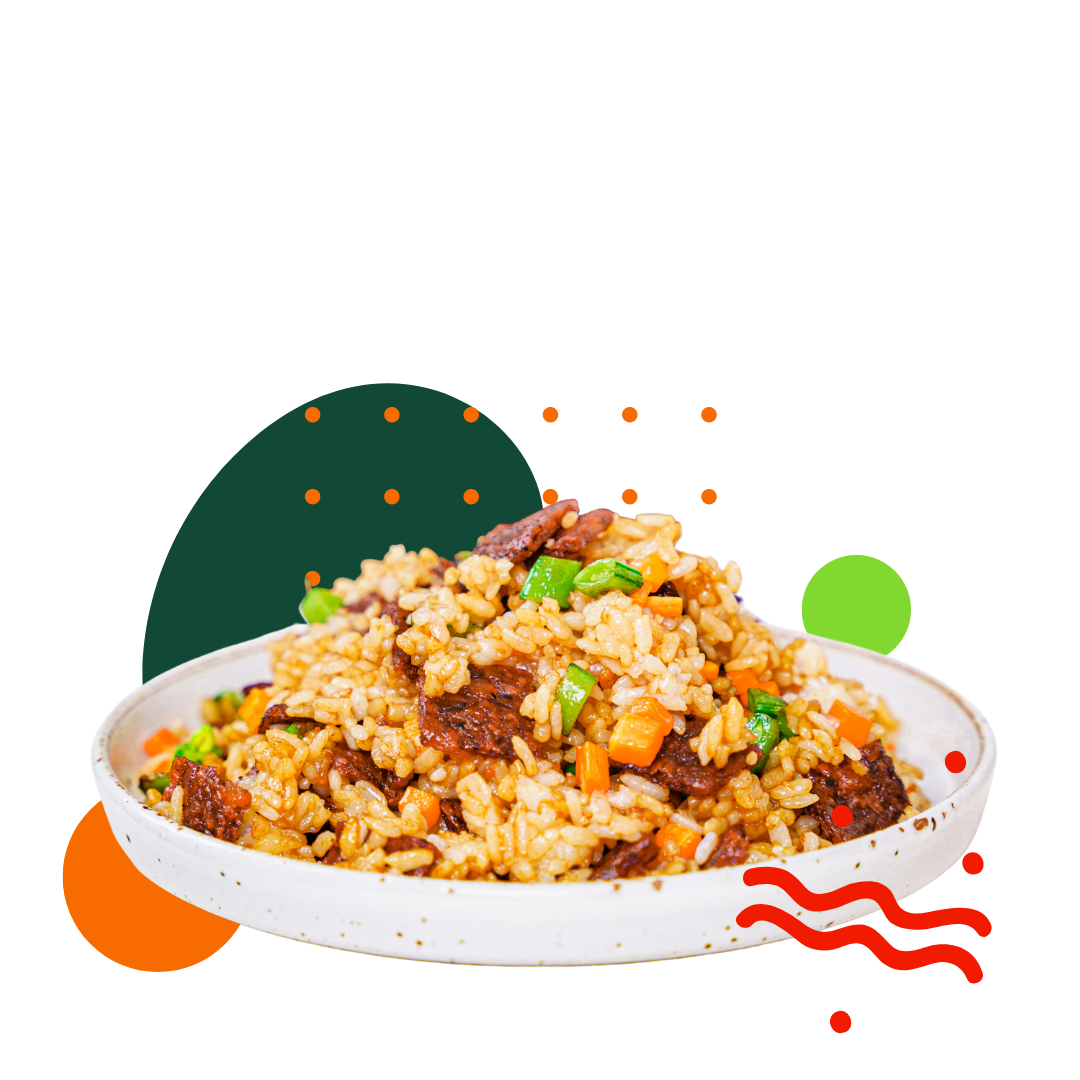 Bak Kwa fried rice is a dish that combines the traditional Chinese staple of fried rice with delectable chunks of sweet savoury dried meat, also known as BBQ meat jerky.
The salty and sweet flavours of Bak Kwa, coupled with the aroma of wok-fried rice, provide an amazing taste sensation for your palate. This is a healthier version that is guaranteed to suit your taste buds.
Check out our sweet, tangy & savoury plant-based Bak Kwa today at: www.mynoumi.com/bak-kwa/.
NouMi creates nutritional & delicious high-quality sustainable plant-based food for everyone.
Check out more of our plant-based meat products today at: www.mynoumi.com. Contact us at [email protected] for any questions or general enquiries.
Introduction
About this Recipe
We all agree that fried rice is delicious and hard to pass up, especially when elevated with Bak Kwa – what a sinful combination!
NouMi's Plant-based Bak Kwa is here to help you if you are having trouble handling the cholesterol and fats in Bak Kwa. If you are not a fan of fried rice, but still want to eat Bak Kwa without worrying about the cholesterol or fats, our plant-based recipe is here to save the day!
Although it could be more challenging to ingest more calories, you can easily make a delicious alternative to fried rice by cooking it with NouMi's Plant-based Bak Kwa.
The following ingredients are required to make NouMi's Plant-based Bak Kwa Fried Rice: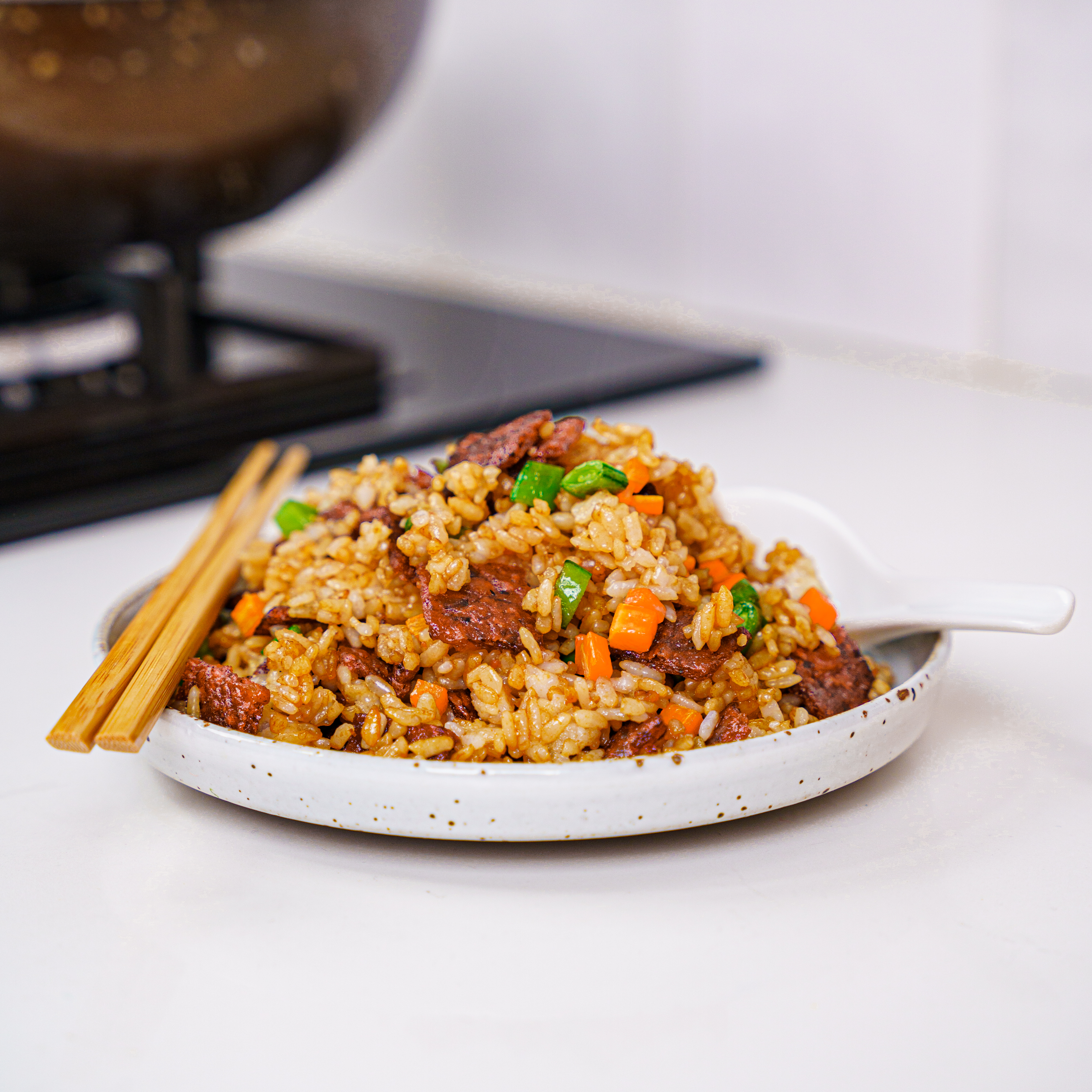 ? 2 tbsp vegetable/olive oil
? 4 cloves garlic peeled and minced (Omit for Vegetarian)
? 4 shallots peeled and finely chopped (Omit for Vegetarian)
? 400 grams cooked rice (1 cup uncooked rice cooked in 1 cup of water) refrigerated overnight
? 3/4 cup frozen vegetables thawed or fresh carrots and green beans washed, chopped and dried
? 2 eggs beaten and seasoned with 1/4 tsp light soy sauce and white pepper powder (Omit for Vegetarian)
? 80 grams NouMi's Plant-based Bak Kwa cut with scissors to small bite-sized squares
? 1/4 cup chopped spring onions or chives (Omit for Vegetarian)
? 1/4 tsp salt to taste
2 tbsp light soy sauce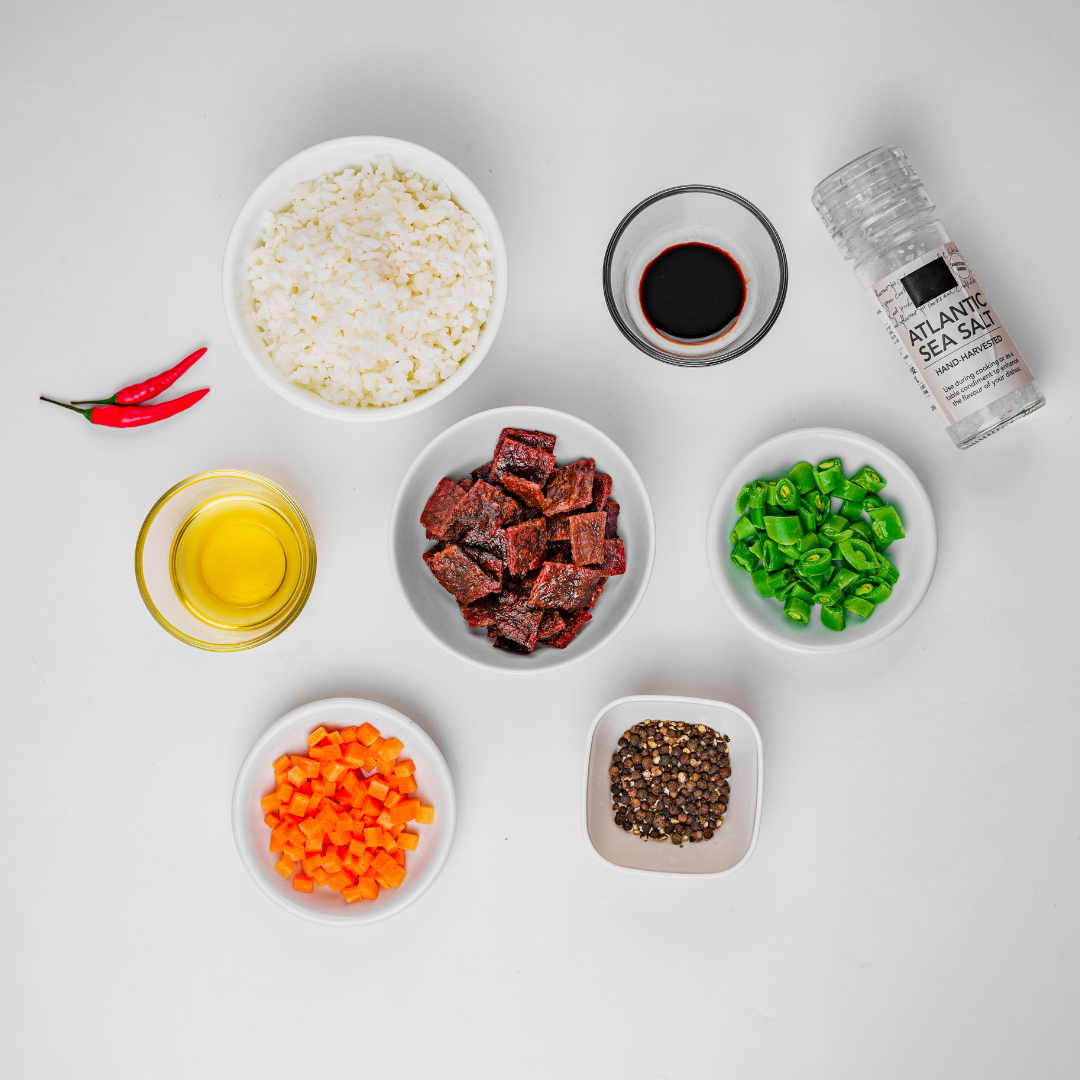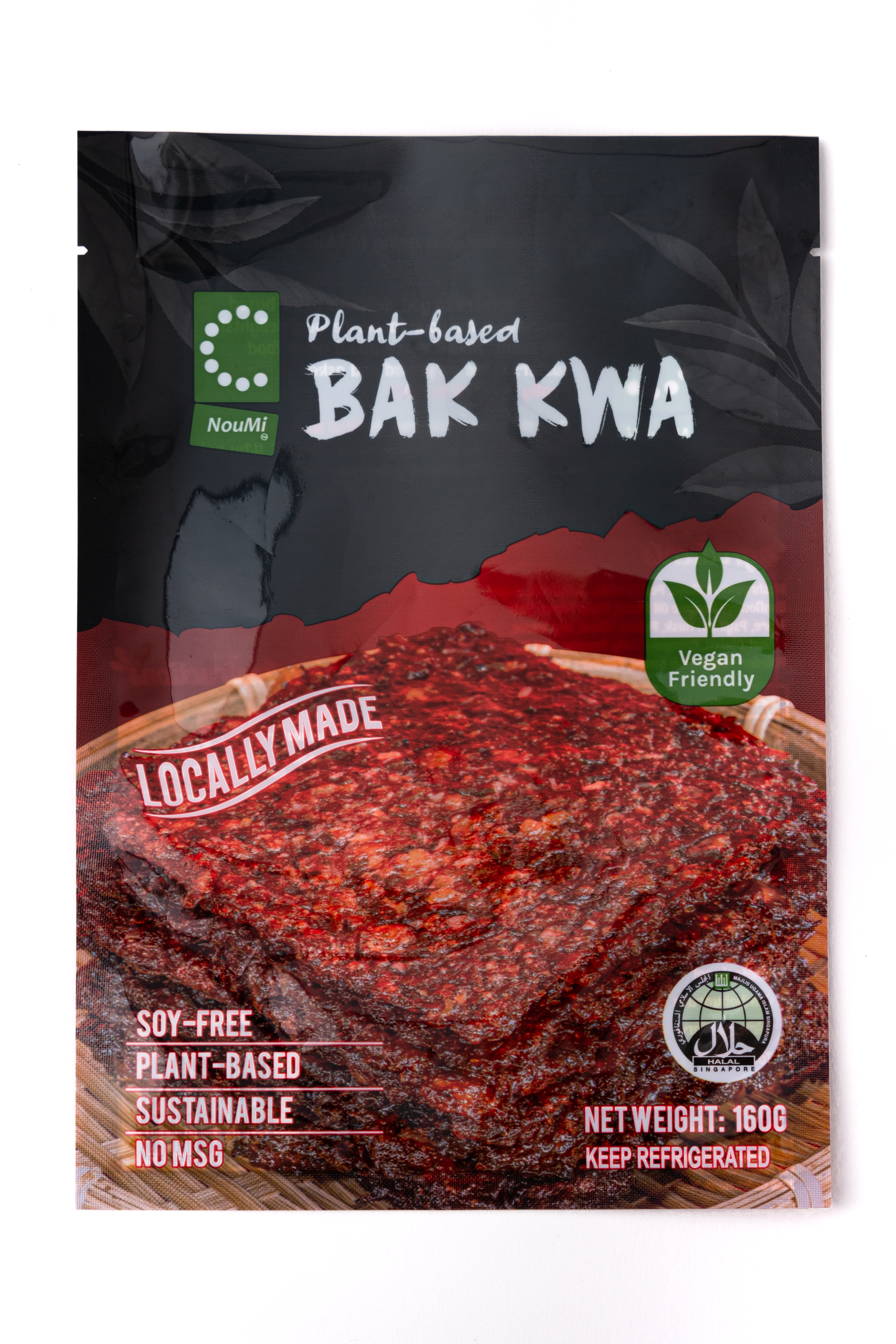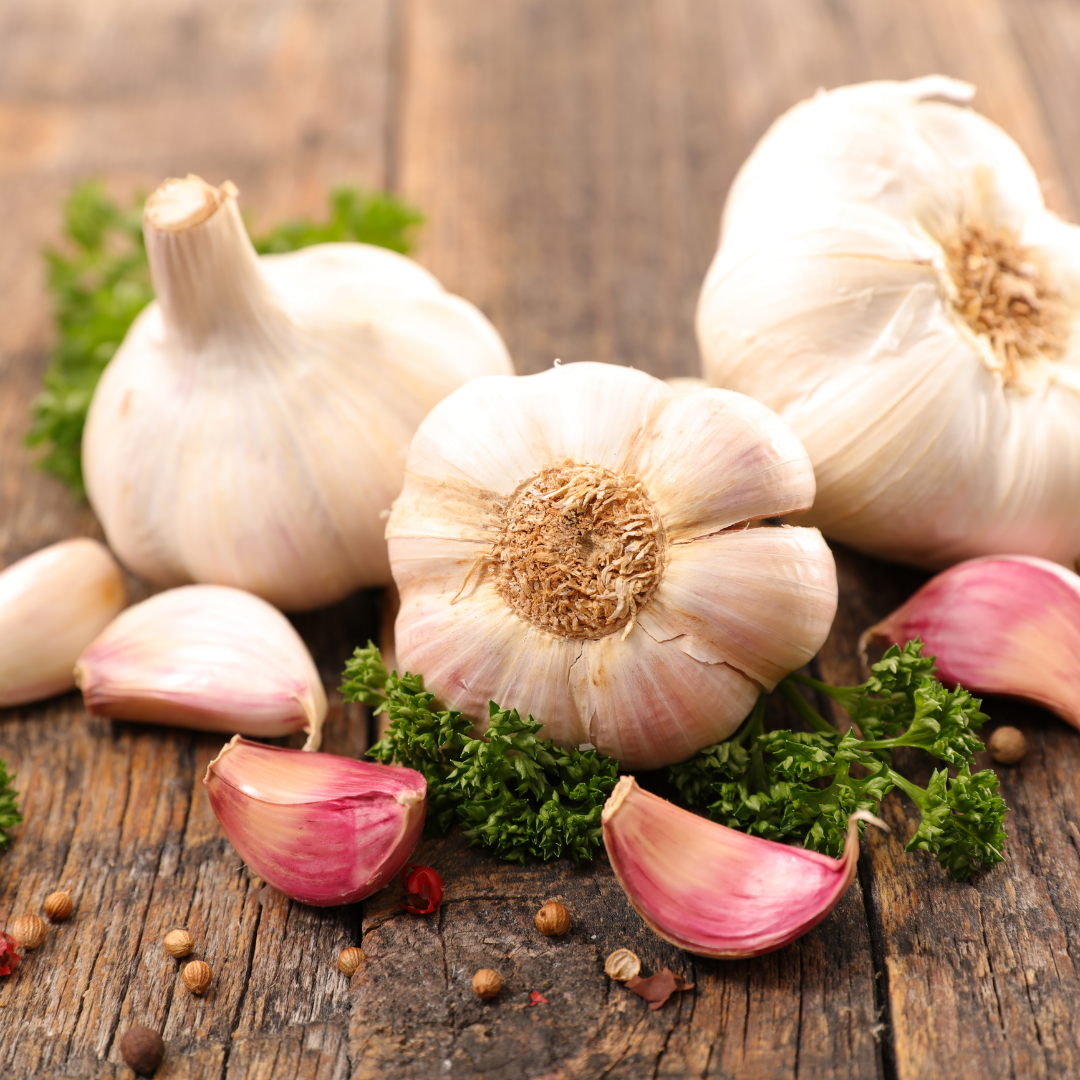 Protien

0.11%

0.11%

Carbs

0.51%

0.51%

Calories

1%

1%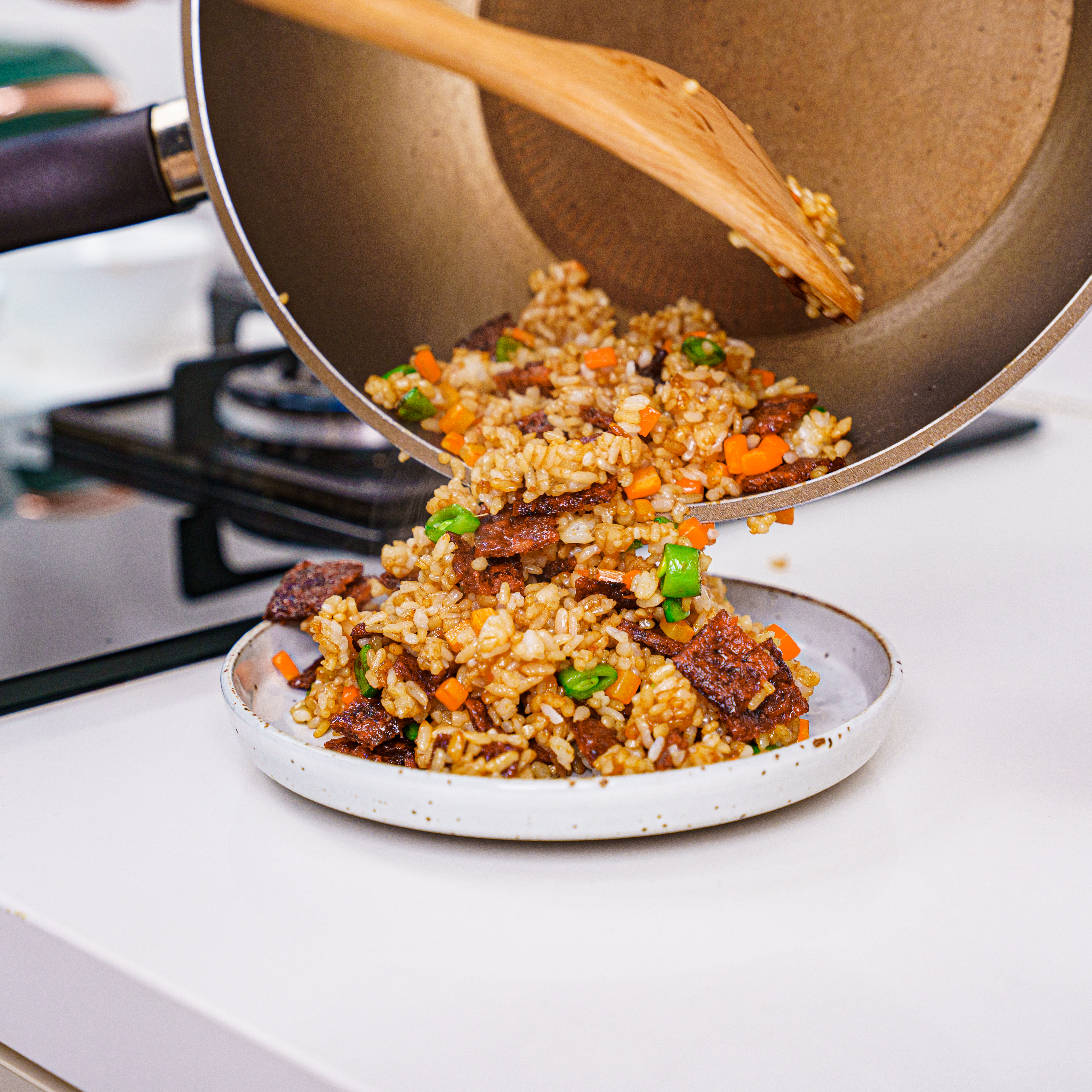 Step by Step Instructions
Step 1
Heat up 2 Tbsp of Olive oil in a wok or frying pan over medium heat. Add the chopped onion and fry until lightly browned, stirring constantly.
Step 2
Add the rice to the pan and stir-fry until it lightens in color for about 2 minutes.
Step 3
Add all other ingredients and light soy sauce, except for chopped spring onions and NouMi Bak Kwa. Cook over low to medium heat until the egg turns opaque and slightly firm with a nice runny yolk (about 5 minutes).
Step 4
Add in NouMi's Bak Kwa and stir fry for about one minute more while seasoning with some salt if required. As this cooks, all the sweet goodness from the Bak Kwa and Vegetable ensuring that each bite is flavorful.
Step 5
Transfer to a plate, garnish with chopped spring onions, and enjoy!
Cheryl Wong

"I made this yesterday and I have to say it's the best recipe for fried rice, I've come across."
Kevin Tan
"Best basic fried rice recipe. Easy to customize to your preference. Absolutely delicious!"
Visit Us
Corporate
7 Temasek Boulevard #12-07, Suntec Tower One, Singapore 038987
Lab 
1550 Bedok North Avenue 4 #03-22 Bedok Food City Singapore 489950
NouMi® By Ants Innovate 2022. All Rights Reserved. Powered by Hashtaqs.