Plant-based
Bak Kwa Yu Sheng
Yu Sheng or Yee Sang, literally means raw fish in mandarin. It is a must have Chinese New Year starter for the year. Like its namesake, eating Yu Sheng during Chinese New Year is purported to bring an abundance of prosperity and good fortune to one's home. It is a symbol of longevity and good fortune because it represents the plant of life that never dies but grows evergreen.
Our healthier version of Yu Sheng is guaranteed to suit your taste buds. Check out our sweet, tangy & savoury plant-based Bak Kwa today at: www.mynoumi.com/bak-kwa/.
?NouMi creates nutritional & delicious high quality sustainable plant-based food for everyone.
Check out more of our plant-based meat products today at: www.mynoumi.com. Contact us at [email protected] for any questions or general enquiries.
Good For:
Chinese New Year festivities
Introduction
About this Recipe
Originally, raw grass carp was used as one of its the main ingredients, but it was soon replaced with either wolf herring or mackerel. Presently, many restaurants today use a mix of other ingredients like salmon, abalone or even lobster for the dish.
The idea is to keep it colourful and ensure that you will be able to hold the ingredients with chopsticks and toss them high up when they are mixed together.
With NouMi's Plant-based Bak Kwa you can now enjoy Yu Sheng with innovative plant-based ingredients!
Tasty and easy to prepare, this recipe is a great alternative for those who want to eat meat but cannot do so because of dietary, health or religious restrictions.
Here is an overview of what you will need: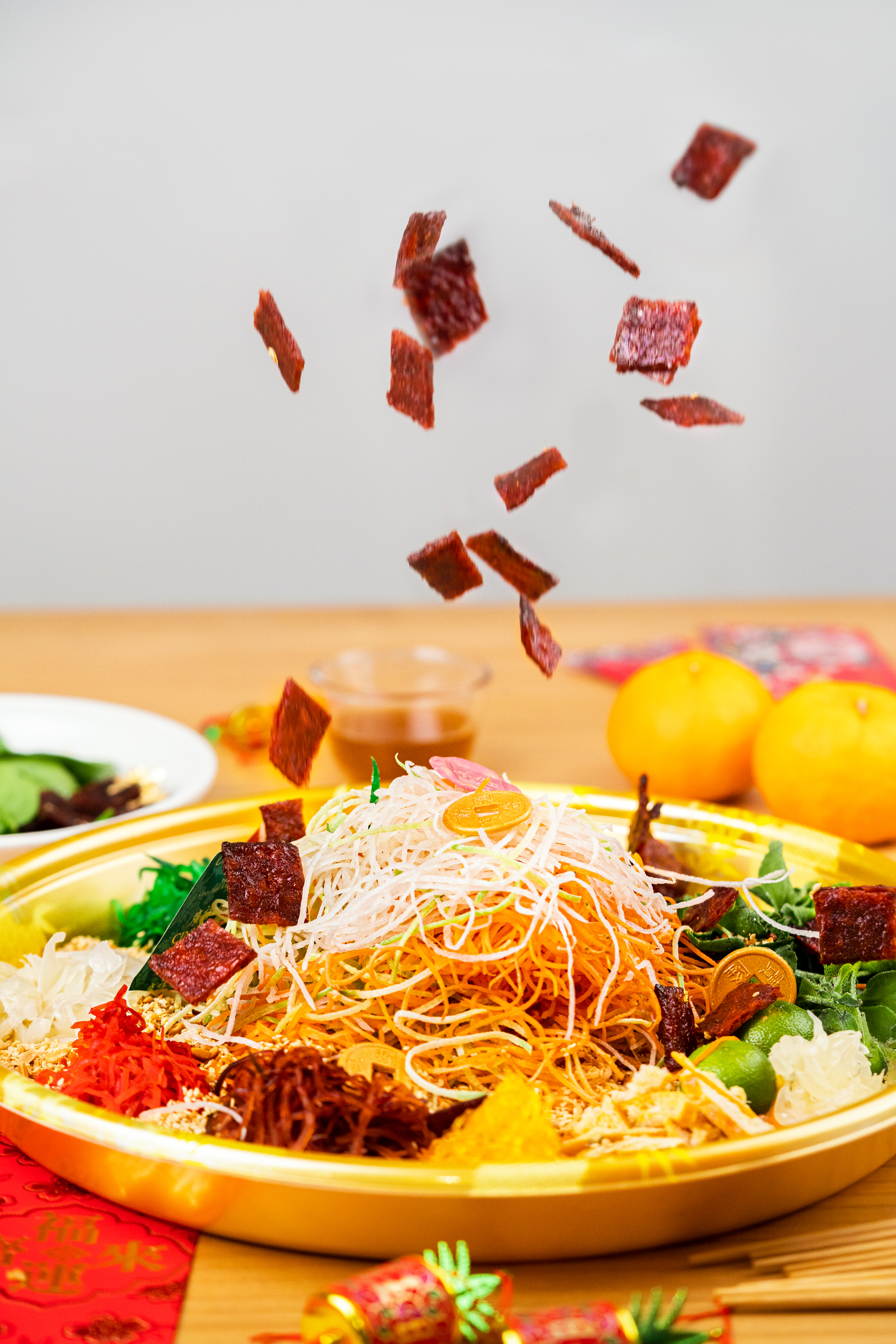 1 small head of lettuce, leaves separated

1 small carrot, julienned

1 small daikon, julienned

1 small red pepper, julienned

1 small yellow pepper, julienned

1 small cucumber, julienned

1/4 cup chopped roasted peanuts

1/4 cup toasted sesame seeds

1/4 cup crispy fried onions

1/4 cup chopped cilantro

1/4 cup chopped mint

1/4 cup chopped basil

2 tbsp plum sauce

2 tbsp hoisin sauce

2 tbsp soy sauce

2 tbsp lime juice

2 tbsp sesame oil

1 tbsp brown sugar

300g plant-based Bak Kwa from NouMi, sliced into thin pieces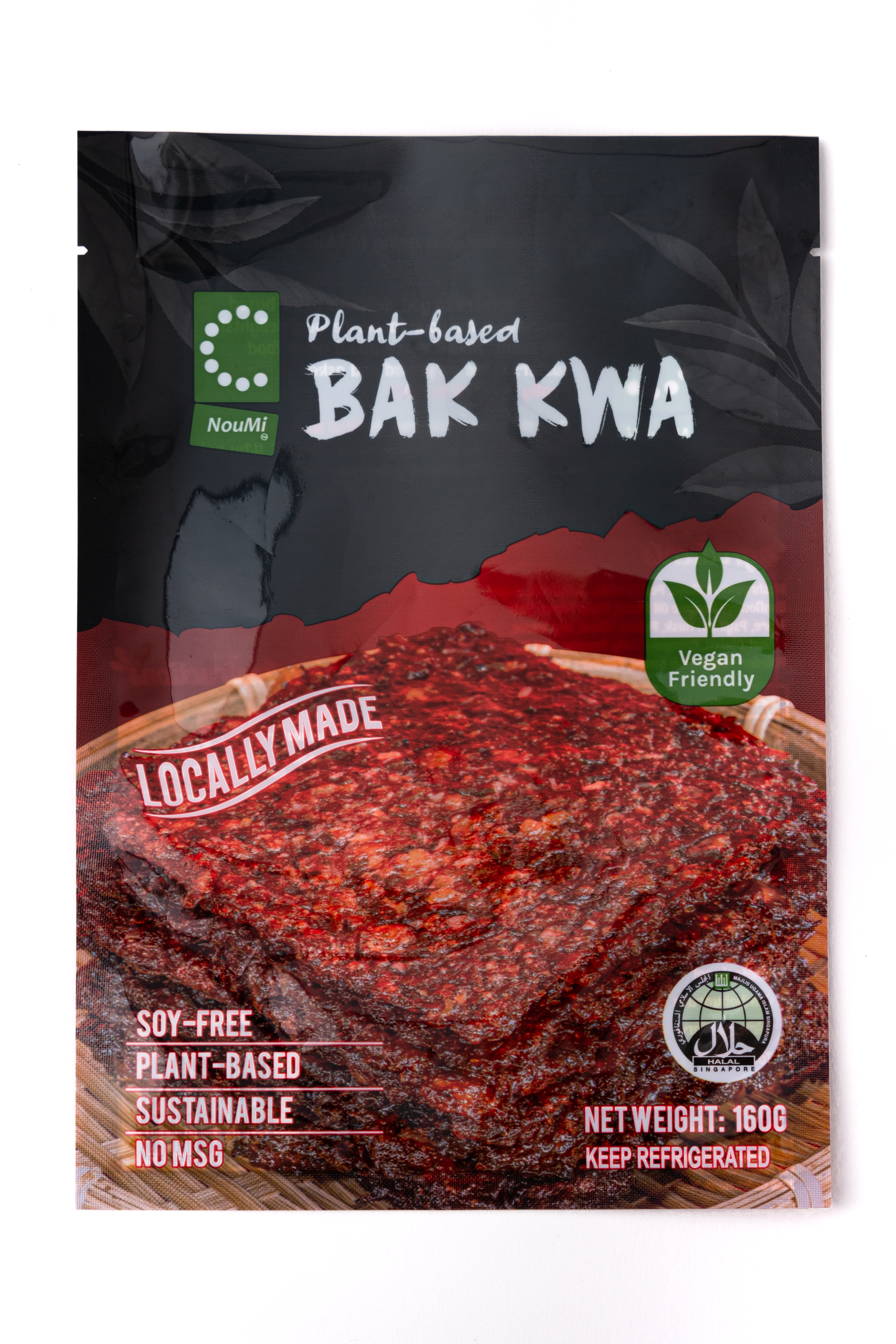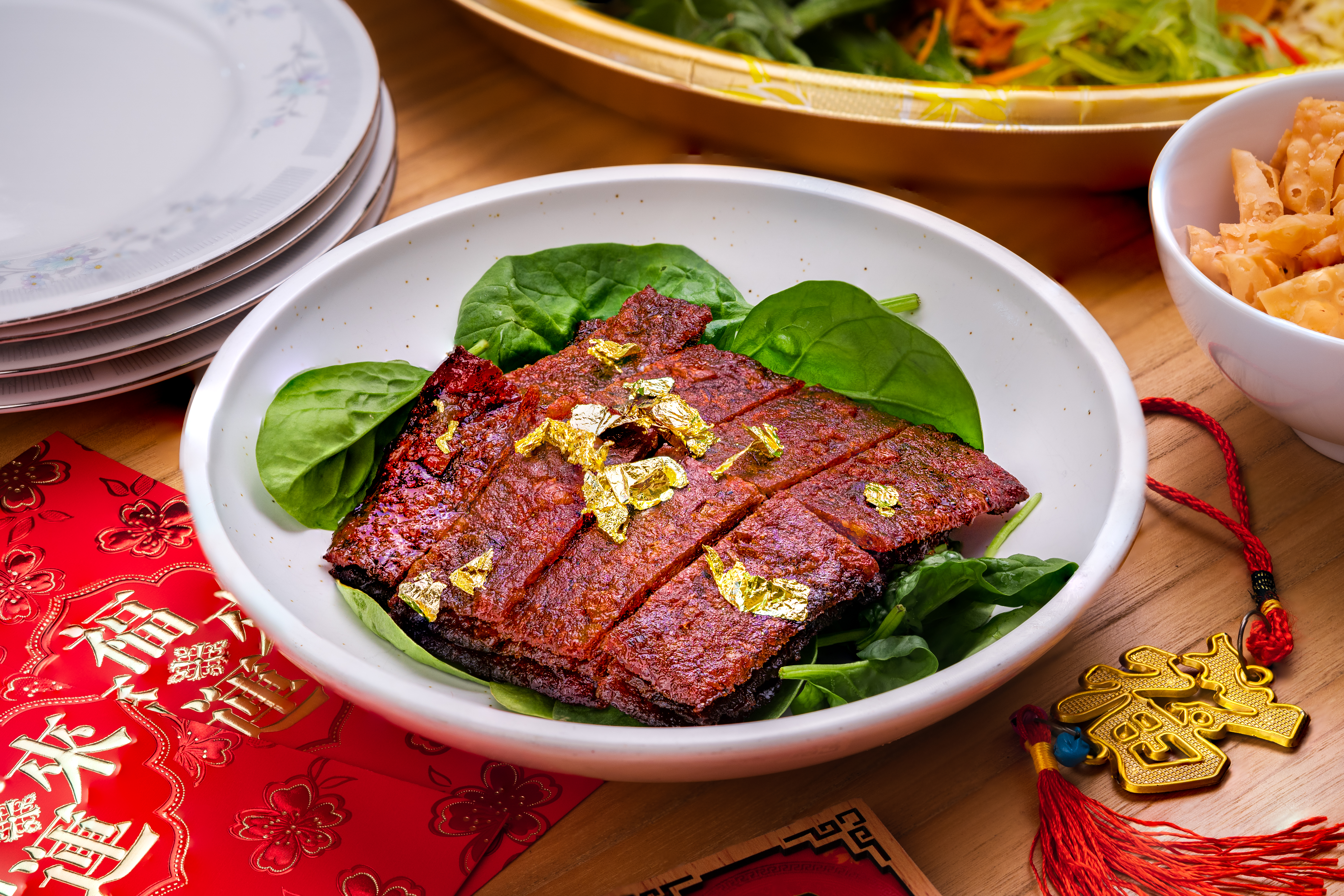 Protien

0.11%

0.11%

Carbs

0.51%

0.51%

Calories

1%

1%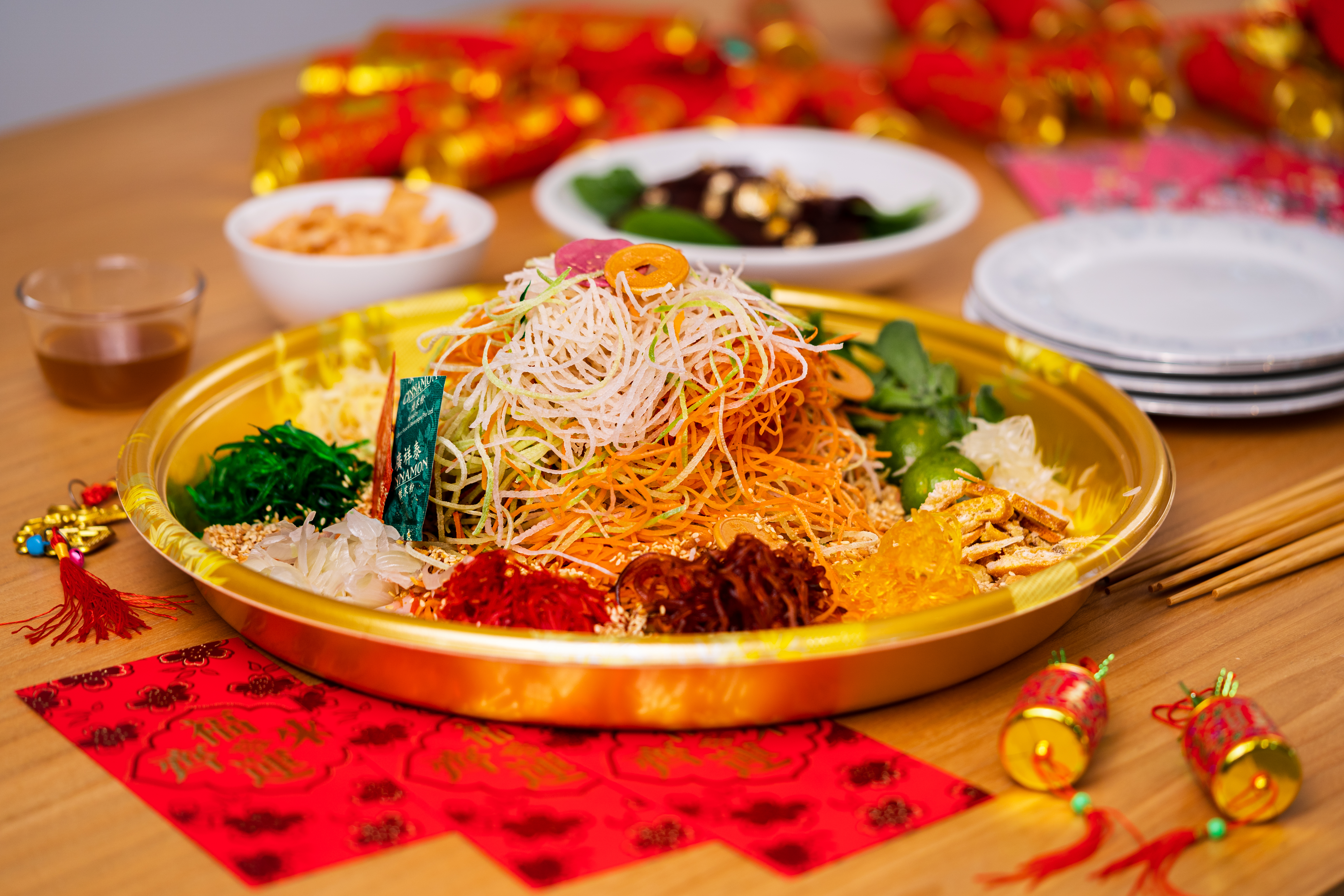 Step by Step Instructions
Step 1
Start by preparing the ingredients. Wash and separate the lettuce leaves, julienne the carrot, daikon, red pepper, yellow pepper, and cucumber. Chop the roasted peanuts, cilantro, mint, and basil. Toast the sesame seeds in a dry pan over medium heat until golden brown, stirring occasionally. Crush the crispy fried onions into smaller pieces.
Step 2
In a large bowl, mix together the plum sauce, hoisin sauce, soy sauce, lime juice, sesame oil, and brown sugar until well combined.
Step 3
Add the lettuce leaves, julienned vegetables, chopped peanuts, toasted sesame seeds, crispy fried onions, cilantro, mint, and basil to the bowl with the sauce..
Step 4
Toss everything together until well coated. 
Step 5
Top the louhei with the sliced plant-based Bak Kwa from NouMi and toss gently. Enjoy and have a happy and prosperous year ahead!
Mary Liew

"The Lunar New Year is the perfect time to make this dish. We loved all the flavours and highly recommend it."
Nick Tan
"That looks absolutely amazing! This one looks so nice and fresh, and so colourful. Thanks for sharing."
Visit Us
Corporate
7 Temasek Boulevard #12-07, Suntec Tower One, Singapore 038987
Lab 
1550 Bedok North Avenue 4 #03-22 Bedok Food City Singapore 489950
NouMi® By Ants Innovate 2022. All Rights Reserved. Powered by Hashtaqs.